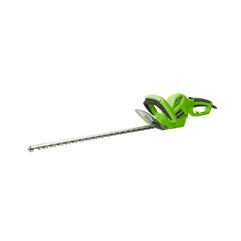 600W Electric Hedge Trimmer, 600w hedge trimmer China - Gardepot
Item No.: HS-GT1213
Material: Metal & Plastic
Size: General
Color: Green
Packing: Color Box
OEM/ODM: Acceptable
Detail
Electric Hedge Trimmer
Voltage/Frequency: 230-240v ~50HZ
Rated Power:650W
No-load speed:1500RPM
Blade length: 650mm
Cutting width: 610mm
Max cutting dia: 20mm
Brake: Electrical
Rotatable handle
H05VV-F 0.35m 2x0.75mm2 with VDE plug
Our 600W Hedge Trimmer:
As an excellent manufacturer, exporter and supplier of professional electric hedge trimmers, we have played an important role in providing high-quality carding trimmers. This trimmer is used to trim hedges in landscapes and gardens. In the manufacturing process of this repairer, we use the highest quality raw materials and cutting-edge technology. In order to ensure your worry-free operation, this hedge trimmer has undergone various parameter checks. This 600w hedge trimmer is used for hedge trimming in parks, gardens and landscapes. The products provided are very suitable for artistic pruning of the trees in the front garden of the residential area. In order to ensure its easy operation, this 650w electric hedge trimmer has passed the inspection of various quality parameters. Its lightweight, convenient and easy-to-use electric hedge trimmer is used to quietly trim and cut hedges and bushes around the garden. It has high blade speed and wide serrations for smooth and efficient cutting. Gardepot's electric hedge trimmer is equipped with a 65 cm double-sided reciprocating cutting blade. Double-sided blades are more suitable for shaping. You do not need to change the cutting direction due to movement.
Overview of 600W Hedge Trimmer :
Designed for comfort and safety
Durable, strong and sharp metal blade
Inclined blade design for best cutting performance
Designed to distribute weight between the blade and handle
Cable fixing for safe cable management, VDE plugs are more reliable
60cm blade length and 25mm blade gap is suitable for all kinds of hedges
Simple cable management system to prevent you from being hindered by cable connections
The Advantage of the 600w Hedge Trimmer:
1. Made in China
2. Quiet: Our electric hedge trimmer can help you trim hedges—even in noise-sensitive areas
3. Handle: Our handle design is ergonomic, allowing you to cut comfortably. It is designed for agricultural and garden workers, so it must have excellent quality. Of course, it is also suitable for personal garden pruning.
4. Laser cutting blade: The hardened cutting edge has high strength and can remain sharp for a long time.
5. zero-emission. After using it, you will never want to use a gasoline trimmer.
| | | | |
| --- | --- | --- | --- |
| Material | Metal & Plastic | Packing Details | 4PCS in One Box |
| Country | China | Brand | Sinotools |
| Item No. | HS-GT1222 | Gross Weight | 17.6KG |
| Driven Type | Electric | Net Weight | 16.3KG |
| Rated Power | 650W | Blade Length | 650mm |
| Rated Voltage | 230-240V~50Hz | Max Cutting Dia | 20mm |