Hedge shears - also known as Manual Hedge Trimmers - are an essential part of every amateur gardener. They are very effective for trimming the tips of branches and trimming edges while promoting new growth. Electric hedge trimmers are often used by professionals and gardeners who do a lot of hedge work, but manual hedge trimmers offer unmatched precision and are a great option for families with only a few hedges to trim.
While choosing the best hedge shears for landscaping may seem like an easy decision, there are actually many considerations worth weighing. This article explores a few important factors to look for when shopping and then provides a selection of some of the top products.
Scissors come in a variety of sizes, styles, and prices. The best tool for you may not be the best choice for your neighbor. If you have different uses - such as arborvitae bushes and privet hedges - you'll want to choose a multipurpose tool, perhaps with gear action. On the other hand, if you have a pruning garden, you should look for small shears that will do the job well.
Important Considerations When Buying Hedge Shears
To help you choose the tool that best suits your needs, consider these aspects.
Weight and Dimensions
Because hedge trimming is a repetitive task that often requires reaching above shoulder height, the weight of the tool is an important consideration.
Heavy tools can cause fatigue, but sometimes a heavy telescoping handle is required to get the job done. Consider your upper body strength when choosing scissors.
On the lighter end, you'll find aluminum and fiberglass handles; steel and wood handle tools tend to be heavier.
By far the biggest factors in reducing fatigue during use are the weight of the tool and the sharpness of the blade.
Cutting Blade
If you primarily do close work, choose a shorter blade (about 6 inches) and a shorter handle. For larger jobs, such as cutting wide privet hedges, choose a longer blade (9 to 12 inches) and a longer handle.
Most high-quality hedge shears on the market are straight-blade shears made from forged steel. One advantage of straight blades is that they can be easily sharpened by hand with a whetstone and/or whetstone.
Ideally, the blades on hedge shears should only touch at the point of cut to reduce friction and sticking.
Some shears have serrations on one or both blades, which are helpful when gripping and cutting branches larger than 1/4 inch.
Another feature of some designs is a non-stick coating, which is said to prevent the blades from sticking and/or rusting.
Wave blade shears are also sold. They grab the branches and prevent them from sliding along the blade when cutting, which is an advantage for open plants. The downside is that wavy blades require professional sharpening.
Another feature to look for is a good adjustable pivot bolt assembly, which allows you to adjust the blade tension as needed. This is usually the first part of the tool to fail, so being able to buy a replacement pivot bolt is an advantage.
To get the most out of your tool, it's important to keep the blade very sharp.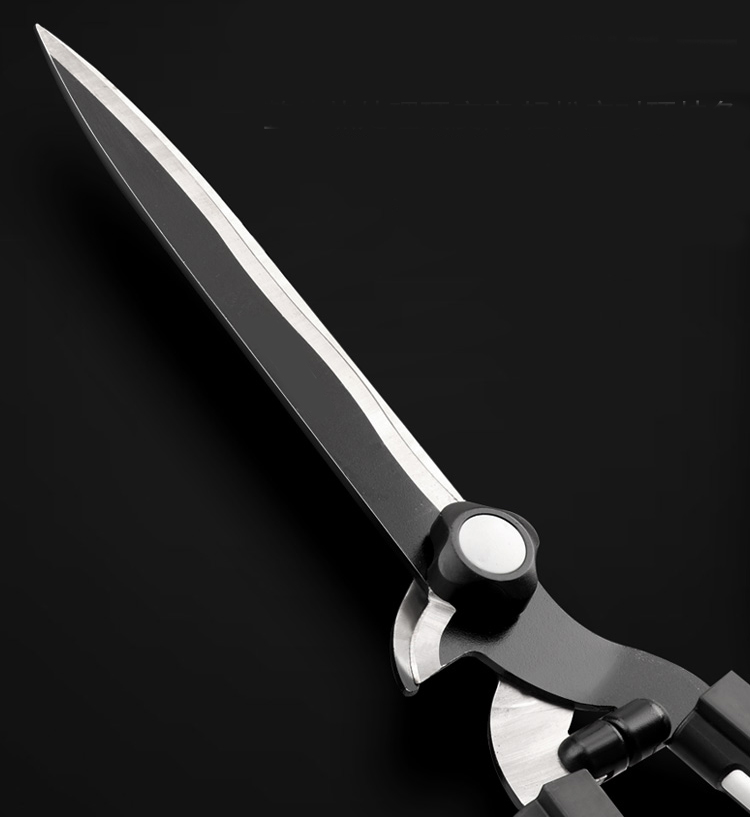 Handle Length
The overall length of most hedge shears is between 20 and 25 inches. Longer scissors are generally more powerful and provide stronger cuts. The telescopic handle provides the best versatility as the overall length of the scissors can be adjusted to suit the task at hand. It's important to note that retractable shears do tend to be heavier, so they may not be the best choice for gardeners who experience back and shoulder pain or arthritis in their hands.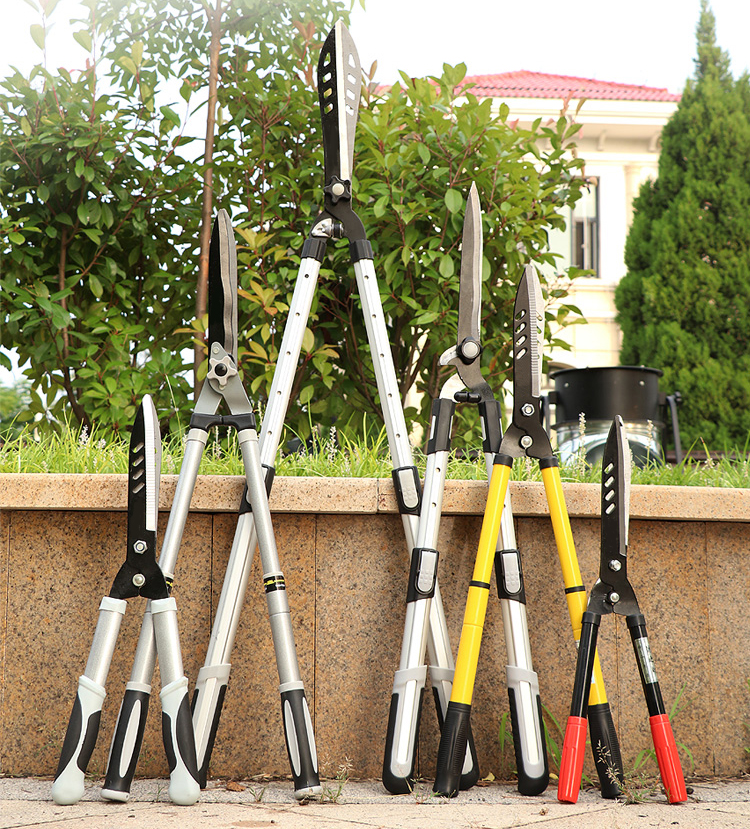 Cutting Ability
Most hand shears will cut branches no larger than ½ inch in diameter. Some designs have a limb notch in the blade that extends the limit. Even so, it's best to have a pair of pruning shears on hand for cutting larger branches.
easy to use
Look for cushioned handles, shock-absorbing bumpers that put your hands together, or an alternate bumper system. This reduces wear and tear on the arm.
Check the action of the tool before buying - some scissors have a simple scissor-like action, while others require more effort to open and close.
So Which Hedge Shear is Right for You?
First, take stock of what kind of plants you want to cut. Do you need a heavy-duty tool capable of cutting tough woody shrubs, or light-duty shears for soft new growth will suffice? How many shrubs or hedges do you need to trim? This will help you determine the relative importance of weight, blade length/type, and ease of use.
Then determine your budget. Like most garden tools, hedge shears come in different price points, and while you'll usually get better quality for a higher price, it's not always necessary to pay more to get what you need.
To help you make the right decision, we offer several different types of hedge shears. Here are a few of our best-selling garden shears.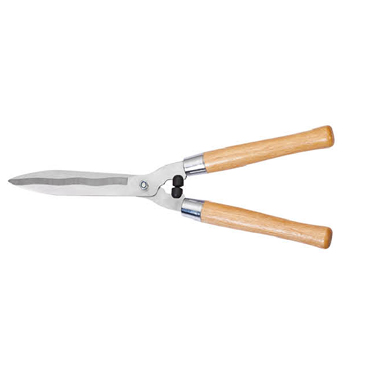 7" Wooden Handle Garden Hedge Trimmer Garden Shear
Pruner Type: Bypass
Feature: Anti-slip
Handle: Natural Wooden Handle
Application: Garden Hedge Trimmer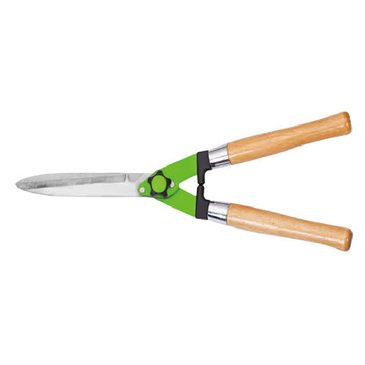 The blade is sharp and cut all the way to the tip and produces smoothly operated crisp cuts.
Good quality wooden handle garden shear
The precision cuts of this tool will preserve your plant's health.
Every cut will be a joyful experience and your shrubs will grow back nicely.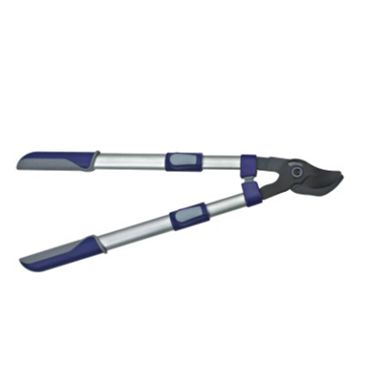 Carbon steel sandblasting blade
Round steel tube handle with a comfortable grip
RESHARPENABLE: Replaceable, Dual Arc bypass blade of fully heat-treated forged steel
SELF-CLEANING: Forged, slant-ground hook with self-cleaning, deep sap groove
NEW AND IMPROVED: Locking nut eliminates nut-retaining clip
COMFORTABLE TO USE: Unmatched blade design dramatically reduces the force to cut
MAXIMUM PERFORMANCE Forging compacts steel molecules into the strongest, most durable tools, that last and hold a sharp edge longer and can easily be resharpened
Hope you can choose the right pruning shears under the guidance of this article.